Dodge Coronet R/T
For 1967, 1968, 1969, and 1970 you could get a Coronet R/T. The Coronet was the poor man's Charger, and was the basis for it. It was the first model of the Dodge R/T lineage.

The 1968s were the start of the next generation. Slightly more squared-off, the grilles and headlights were sunked back a bit also. The '68s shared many of the same upgrades as the '67s, but added a 150 mph speedometer. The same engines were offered this year. Coupe and convertible body styles were offered .

For 1969, you could get an available fresh air induction system which included twin scoops on the hood. Also available were a smattering of rear axle ratios. Same basic offerings though otherwise this year.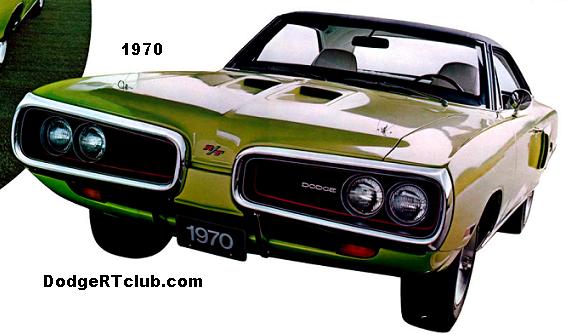 The 1970 Coronet received a sinister 'bat-eye' appearance in the nose, as well as rear quarter panel scoops, though they were non-functioning. The 440 6-pack option was now available. All else on the R/Ts was carried over. This year was the last year for a Coronet R/T, and Coronet coupes & convertibles for that matter.
0-60 MPH: 7.0 seconds ('67 440), 6.6 sec ('70 440 6-pack), 6.1 sec ('67 426)
1/4 mile: 15.4 sec ('67 440), 14.5 sec ('67 426), 13.6 sec ('70 440 6-pack)
Horsepower: 375 ('67 440), 390 ('70 440 6-pack), 425 ('67 426)
Torque: 480 ft/lb ('67 440), 490ft/lb ('67 426 & '70 440 6-pack)